Types of Pergolas
You classify Pergolas according to their roof design. Differing designs have their respective pros and cons, with each one providing different options.
The four main types of pergolas are listed below:
Flat Roof Pergola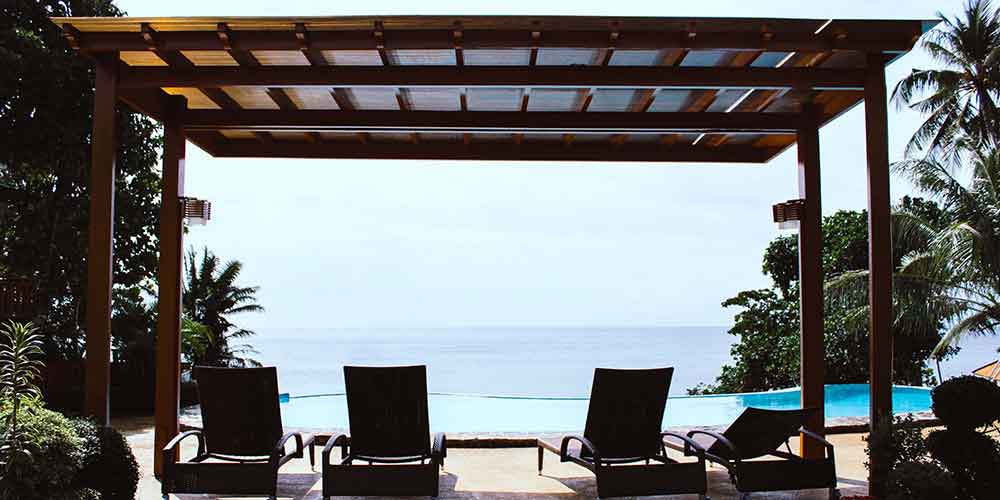 Due to the flat nature of flat roof pergolas, they are generally lower profile. This means that they can get hot during the summer, as they don't have as much room for the heat to rise and escape.
There are a couple of things to consider when you decide to build a flat roof pergola.
Dealing with heat.
Due to the obviously flat nature of flat roof pergolas, they are generally lower profile. This means that they can get extremely warm during the summer, as they don't have as much room for the heat to rise and escape.
Some ways you can offset this is with lining the structure with timber and insulation, or by installing fans to circulate some of the heat.
Another way to protect yourself from the heat is to make a smart choice regarding the roofing material you use. In the list of what you get when you build through Ballarat Pergolas and Decking, we mention that we quote COLORBOND Steel roofing. Colorbond steel is thermally efficient, which means that less heat is radiated into your entertaining area, thus keeping you cooler.
Design
You want your new pergola to be an extension of your home – not a sight for sore eyes. Ensure that a flat roof design will appear to be an extension of your home.
Hip Roof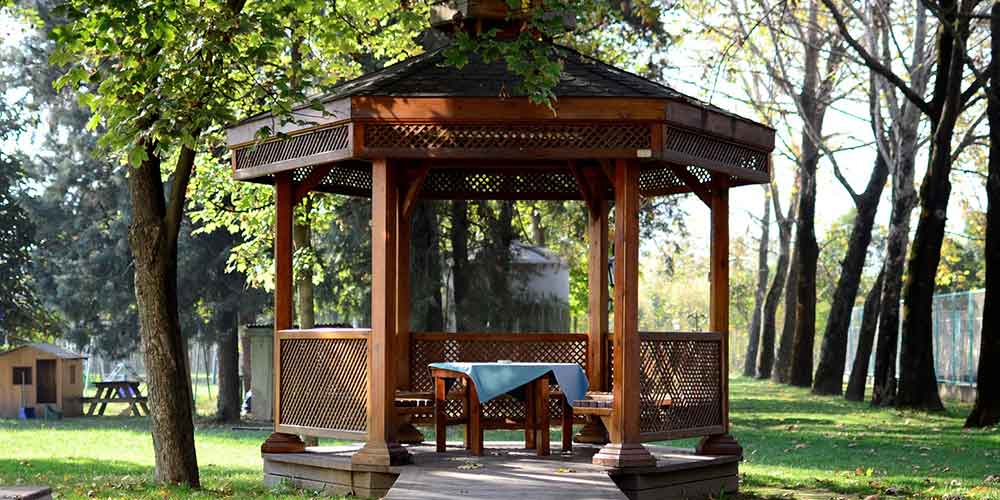 A hip roof style pergola has slopes from the centre out in all four directions, with the centre point being the highest point of the design. Hip roofs have different options and designs, with the main ones being square, rectangle, triangle or circle.
Hip roofs have a gentle slope, and due to this, they are difficult to construct.
Hip roofed pergolas are generally seen in stand-alone areas of a garden, giving you that luscious, private sanctuary feel.
Gabled Roof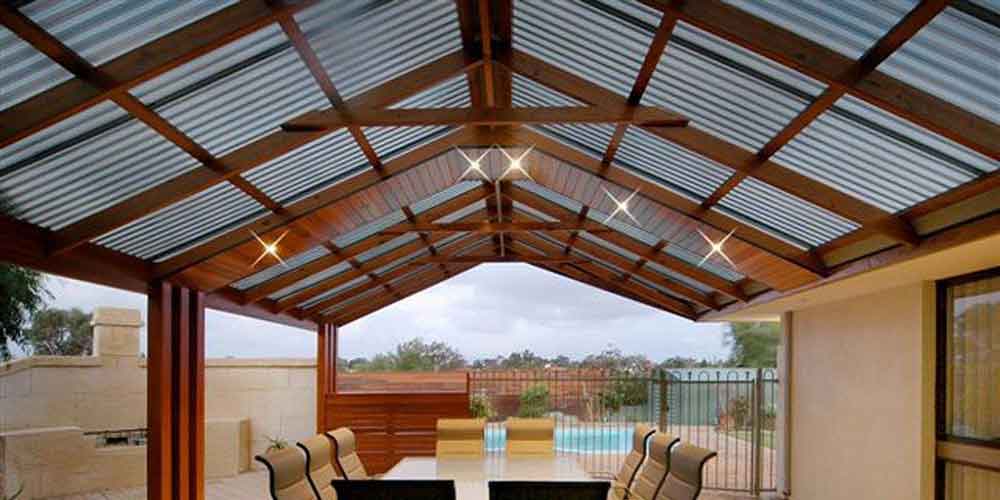 Gable roofs are likely the most popular architect design in the world. It adds style and charm to any house and transforms a pergola into an attractive and practical outdoor space.
Gabled pergolas have multiple benefits compared to a flat roof.
Aesthetic appeal
Gable roofs are pitched, with triangular-shaped "gables" at each end (reference the image above). This gives the impression of more height and space inside the entertaining area.
In the situation of a pergola, it turns what might be a flat, featureless veranda into a true indoor/outdoor living area by giving it a more enclosed feel.
Heat dispersion
Due to their higher ceilings, gabled roofs deal better with the summer sun. While the sun striking on a flat roof causes it to heat up more quickly, the slop of a gabled pergola means the sun strikes more indirectly – thus causing it to not heat up as fast.
Also, if the gables are open on each end this allows for more air-flow under the roof, allowing heat to dissipate quicker.
Simplicity
Due to their time-proven design, gabled roofed pergolas are quicker to construct compared to their some of their counterparts. This means that it could you save you money on labour costs.
If there are any drawbacks to a gabled pergola, some could argue they aren't suitable for areas of high wind, as extremely high winds could get under the cavity and tear the roof off.
Dutch Gable Roof
A dutch gable roof combines two popular pergola designs, the gabled roof and hipped roof.
The gable construction is built on top of the hipped section, allowing it to have the perception and feel of higher ceilings. While the hipped roof still allows for low hanging eaves, which is great for keeping out the afternoon sun or rain.
The lower pitch of a dutch gabled roof creates a shade which keeps the space fresh during the warmer months, yet during the cold seasons does a good job at trapping the heat inside of the structure.
Dutch gables are popular in Australia due to their fantastic heating and cooling properties.